Go Project
The 'Go Project' is a product developed and designed by Stevenage Sports Futures Team CIC.
The 'Go Project' is far from just another 'equipment and resource package' it is a child friendly take home resource based around the Early Years Foundation and Key Stage 1 Physical Development requirement. The Go Project is also aligned to the Change4Life campaign, to its objectives and to the Department of Health. The Take Home Activity Cards have been created, acknowledging the practitioners' concerns with regards to the inability of many parents/carers to interact with their children, through the use of simple basic skills, which, although often taken for granted and overlooked by adults, are ideally suited to aiding young children to develop and master the essential elements that are required to initiate a healthy and active start to life.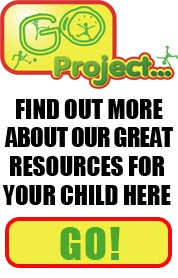 All information, guidance, training and delivery regarding the 'Go Project' that is provided by us will be sourced directly from Stevenage Sporting Futures Team CIC.
www.stevenagesportingfutures.co.uk